Chandravanshi
Chandravansh (or Somvanshi) is one of the ancient dynasty in India. They claim that they are the descendents of Hindu God Som.



Ancestry of Chandravanshi :-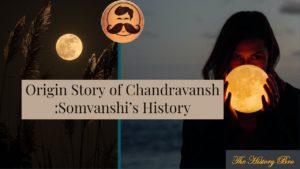 According to the Hindu Puranas, the genealogy of Somvanshi is as follows:
 Lord Brahma
 Atri , one of the Saptarishi created by Brahma.
Som, son of Atri.
Buddh, son of Som and  Tara (wife of Rishi Brahaspti.).
Pururuva  or Yela, son of Buddh and Ila.
Ayu, son of Pururuva  and Urvashi.
Nahush, son of Ayu and Vraja.
Yayati, son of Nahush and Ashokasundri.
King Puru, son of Yayati and Sharmishta. (Since King Yadu was expelled from Chandravansh King Puru's descendents declared as Somvanshi).
To Read Why King Yadu was Expelled From Chandravansh : Click Here
Published Date :March 29, 2021 @ 7:17 am